OUR MISSION

Our mission is accomplished by a highly motivated, expertly trained group of men and women who
are personally committed to the sacredness of all human life while performing public service, crime
prevention, homeland security, and highway safety.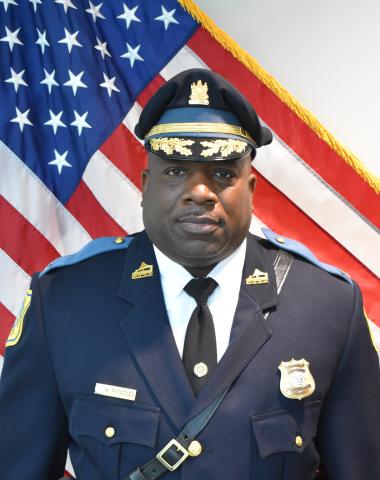 A MESSAGE FROM COLONEL Wayne E. McFadden
Welcome to the online home of the Delaware River and Bay Authority Police Department. As the Police Administrator, I am honored to serve alongside the outstanding men and women of this Department. Every member of our Department recognizes the obligation and responsibilities that come from donning a badge and will forever honor the public trust bestowed upon us.
The Delaware River and Bay Authority Police Department was established by a compact between the States of Delaware and New Jersey with congressional approval. We have worked very hard to establish the highest standards in professionalism and public service, as well as customer service-oriented policing. We are an internationally accredited police department through the Commission on Accreditation for Law Enforcement Agencies – a prestigious distinction we have consistently earned since1996.
As the Colonel, I am committed to creating innovative approaches to delivering police services. We will strive to utilize social media and open communication to stay connected to those we serve. We will continue to utilize and update our technology to better serve our customers and citizens. We'll work closely with our law enforcement partners, both in Delaware and New Jersey, to enhance our training opportunities, communications, and shared services.
The Executive Director of the Delaware River and Bay Authority and his Executive Leadership Team have made public safety a top priority. We rely on their support and our Board of Commissioners for valuable direction and assistance.
In closing, our police department is a diverse agency that strives for excellence in order to make our facilities a safer place to visit and work. We will continually look to improve our customer service, public safety, and homeland security responsibilities. Thank you for visiting the Delaware River and Bay Authority Police Department's website.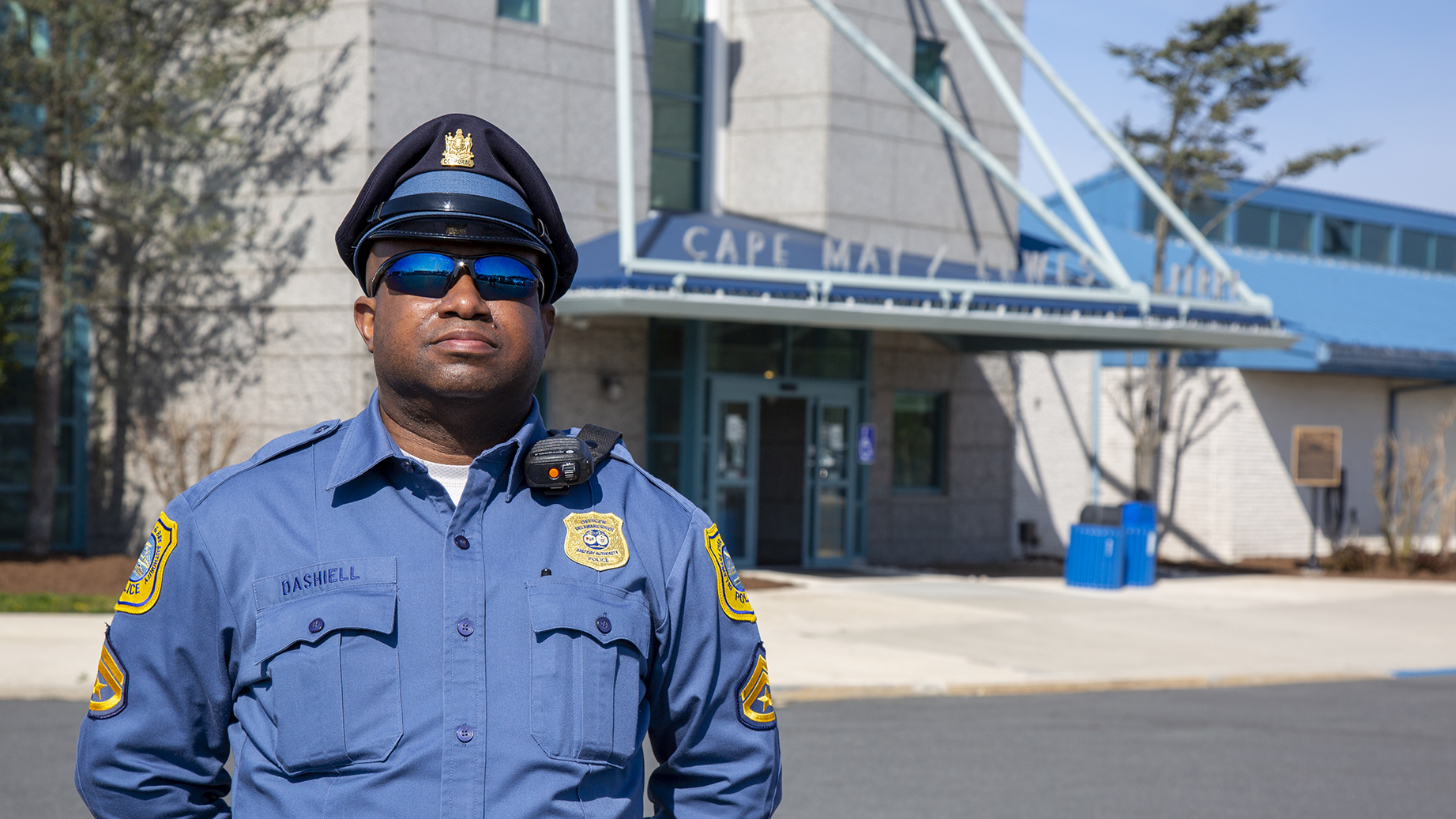 customer service-oriented policing
The Delaware River and Bay Authority Police Department practices customer service-oriented policing. What does this mean? It means we do things a little differently, and we take our commitment to protecting and serving the public, and to holding ourselves to the highest standards of professionalism, extremely seriously. Your safe passage is foremost, whether you are traveling on the Delaware Memorial Bridge, its access roads, the Cape May Lewes Ferry, or our airport facilities.
Duties, Responsibilities, and Selection Process
PATROL OFFICER
The general responsibilities of a Patrol Officer - Delaware Memorial Bridge, include responding to calls for service, enforcing traffic and criminal laws, and operating police vehicles when on routine patrol.
The Delaware River & Bay Authority Police Department is an equal opportunity employer and welcomes you to explore job opportunities with us at any of our facilities.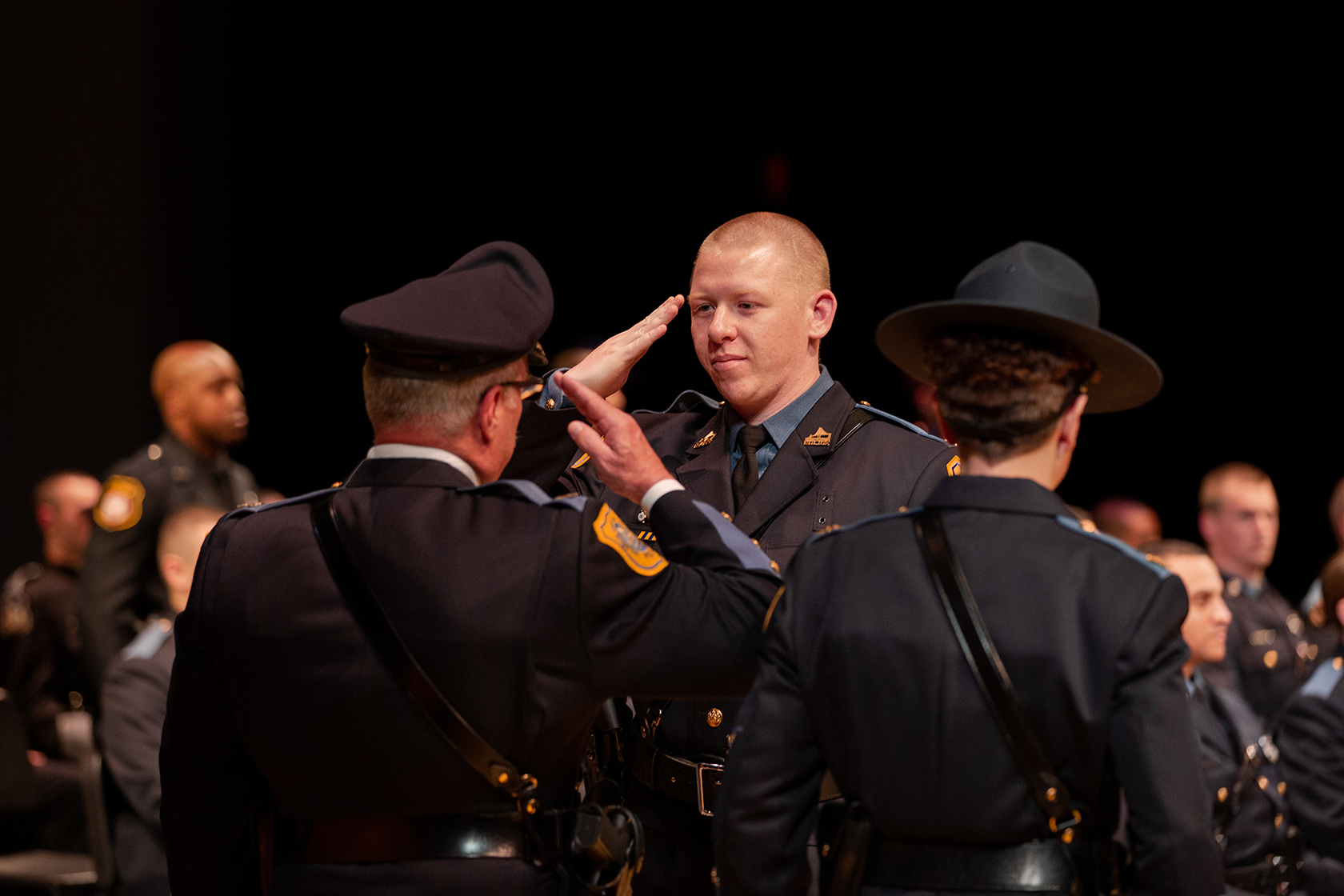 Essential duties and responsibilities
Participate with co-workers and supervisors in the advancement of the troop's goals and objectives
Complete assigned and self-initiated workloads
Required to efficiently analyze and organize information and evidence obtained during traffic and criminal investigations for prosecution purposes
Deliver emergency services to the public by responding to calls for service safely and promptly and by providing assistance to those in need
Protect the public, co-workers and themselves from harm and injury by following established safety and security practices and by correcting and/or reporting safety and/or security hazards or risks
Required to exercise discretion in the use of deadly and non-deadly force
Required to arraign a defendant, as well as testify in court
Able to make NCIC, DELJIS, SCIC and CAD inquiries and conduct a full traffic collision investigation (i.e. interview witnesses, sketch and measure collision scenes, determine contributing factors and identify violations, etc.)
Must possess the physical ability necessary to engage in physical confrontations using offensive and defensive tactics to subdue combative subjects
Normally required to work a 12-hour rotating shift and adapt to irregular working conditions
Required to write different types of reports, including traffic reports, summonses and arrest reports
Able to identify public utility problems and report other road hazards
Assist motorists in need of assistance or to perform traffic direction and control
Utilize a variety of equipment in the performance of their job duties, including an automobile, communications center equipment, baton, breath testing instrument, computer terminal, fire extinguisher, flashlight, handcuffs, portable radio, police car radio, radar/laser unit, semi-automatic pistol, shotgun, body armor and photographic equipment
May instruct suspects on the process to obtain an attorney, enforce court orders, respond to civil disputes, and testify in Family Court
Prepare search warrants, collect evidence, and inventory stolen property
May have to stand/walk continuously for more than one-half the work shift and walk on narrow, elevated surface.
Prepare interdepartmental memorandums and daily operational reports, as well as maintain daily equipment.
Clean and inspect firearms and perform random equipment inspections
required knowledge, skills, and abilities
Knowledge of laws and departmental rules/regulations/procedures, as well as other resource materials
Knowledge of weapon craft and must demonstrate usable knowledge of court decisions
Skilled in the use of firearms, as well as non-lethal weapons
Ability to drive in both emergency and non-emergency conditions
Ability to communicate both orally and in writing, cope with stressful situations and evaluate a situation, respond correctly and apply appropriate discretion and common sense
minimum qualifications
Must be a United States citizen
Must be at least twenty-one (21) years of age
Minimum uncorrected vision not greater than 20/200 in each eye and correctable with lenses to 20/20 in each eye. Able to distinguish between the colors of red, green and amber
Bachelor's degree from an accredited college or university, OR
An Associate's degree, or at least sixty (60) college credit hours, or ninety (90) quarter credits from an accredited college or university AND at least two (2) years of satisfactory employment indicating the maturity of the applicant; OR Thirty (30) college credits, or forty five (45) quarter credits from an accredited college or university with either two (2) years of active duty military service; or one (1) year as a full-time Delaware or New Jersey certified police officer.
Height and weight in proper proportion. Must be in excellent cardiovascular physical condition. See Physical Fitness minimum requirements in the table below.
| Males (Age 20 - 29) | Females (Age 20 - 29) |
| --- | --- |
| Sit-ups: 33 | Sit-ups: 24 |
| Push-ups: 22 | Push-ups: 17 |
| 1.5 Mile Run: 13:53 | 1.5 Mile Run: 16:11 |
| | |
| Males (Ages 30+) | Females (Ages 30+) |
| --- | --- |
| Sit-ups: 30 | Sit-ups: 20 |
| Push-ups: 17 | Push-ups: 11 |
| 1.5 Mile Run: 14:23 | 1.5 Mile Run: 16:48 |
| | |
licenses, registrations, and/or certifications
Must posses valid driver's license
Certified police officers with at least one (1) year of experience preferred. An evaluation of all courses and hours completed in the applicant's academy will be evaluated to determine the applicant's eligibility in the selection process.
This is a bargaining unit position represented by Fraternal Order of Police Lodge 14
selection process
The selection process consists of several pass/fail components. Applicants must successfully pass each component in order to advance in the process. These components are:
• Entry Level Written Examination
• Records check
• Preliminary Physical Fitness Evaluation
• Oral Panel Interview
• Colonel Interview
• Complete Background Investigation
• Medical Examination
• Cardio-Kinetics Examination (All candidates are required to pass a physical fitness evaluation consisting of Aerobic Power, Abdominal Muscular Endurance, Upper Body Strength, and Grip Strength). It is recommended that candidates actively participate in an aggressive fitness program prior to the test.
• Polygraph Examinations (Criminal and Medical)
• Psychological Examination
Failure on any of the above components will result in removal from the selection process. Therefore, you may re-apply for the
next selection process, once a new job opening is posted.
Information for DRBAPD REtirees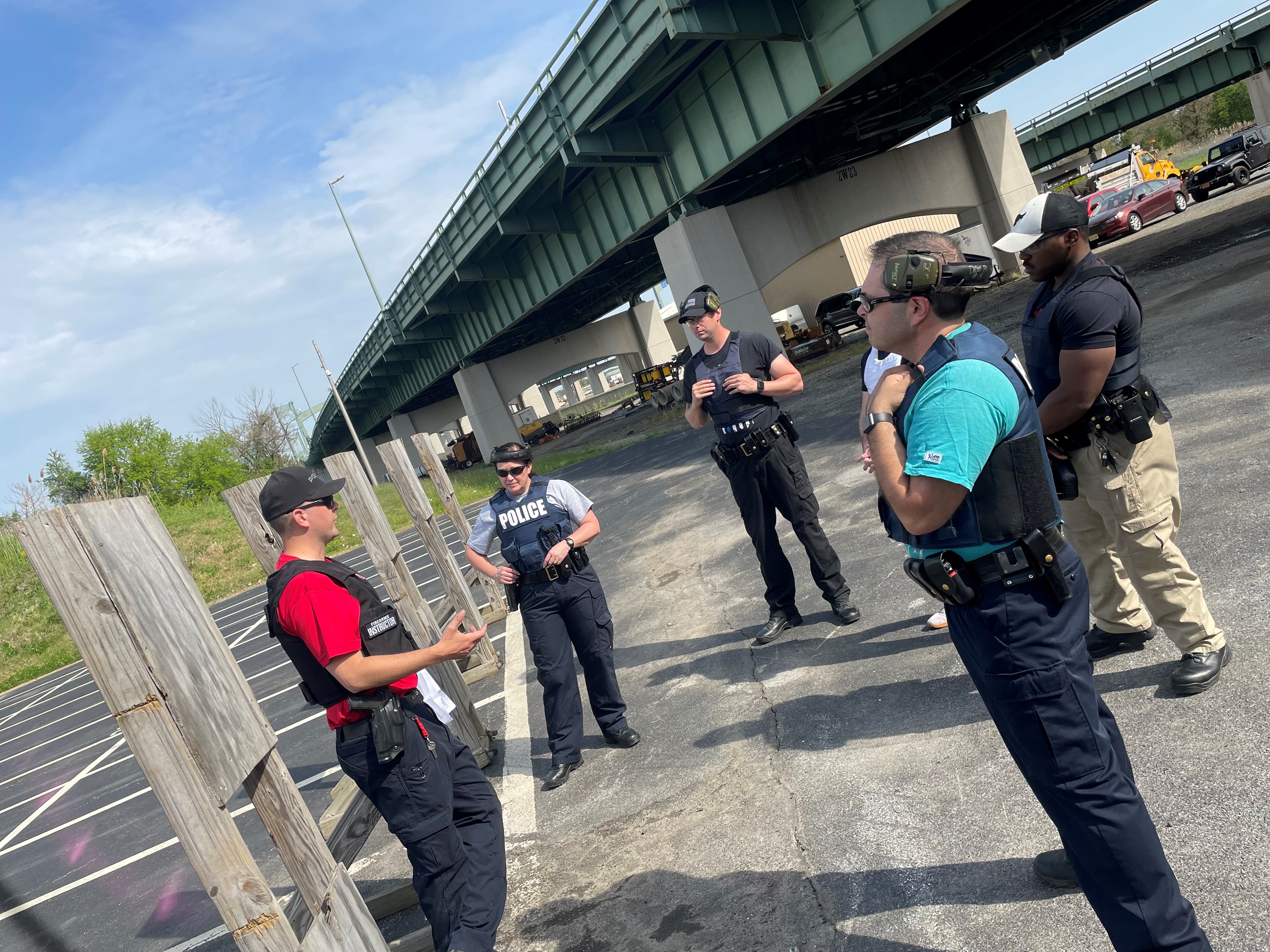 HR218 Qualifications
DRBA Police schedules the annual HR218 qualifications during fall range qualifications. Interested/Qualified retirees should review the HR218/LEOSA documentation below for further details. For any questions, please contact the Lt. Colonel at 302.571.6014.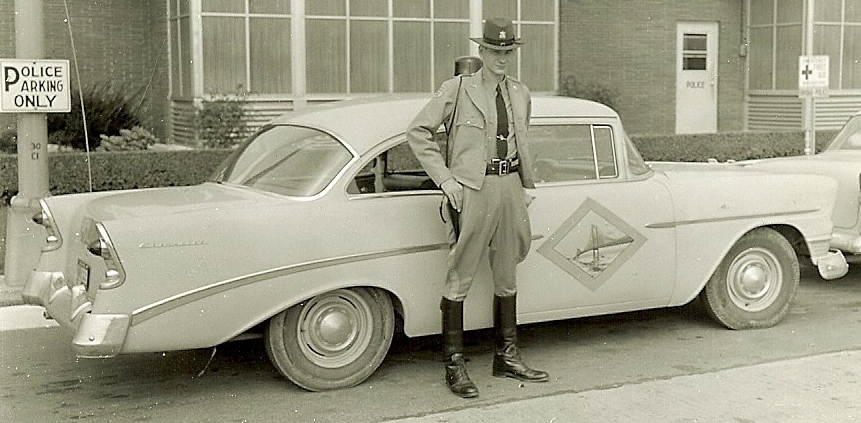 HISTORY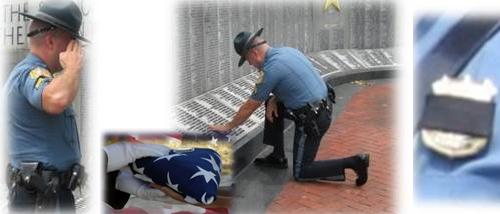 MEMORIAL
LEADERSHIP
POLICE